Directions for Weston On The Green Memorial Village Hall:
Click here for a link to Street-map for the location map for the hall.
From the M40, Junction 9 take the A34 dual carriageway toward Oxford, and in half a mile take the slip-road signed to Middleton Stoney and Weston On The Green.
Follow the road over the dual carriageway to a mini roundabout. Here a pub can be see to the left called the Chequers. Turn right at the roundabout onto the B430.
Drive up through the village and note the Weston Manor Hotel on your left. Turn left 200 yards passed the Weston Manor Hotel down Church Road, signed for Bletchingdon, at the small village green with the Stocks on it. If you come to the Ben Johnson Pub, you have over-shot the turning.
200 yards down Church Road the road curves to the left and Mill Lane, where the village hall stands can be see to the right with a round island in the mouth of the turning.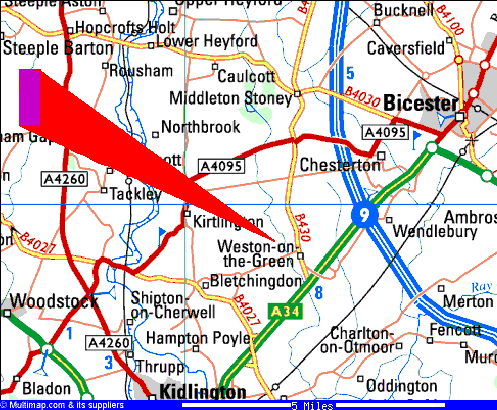 Image produced from the Ordnance Survey Get-a-map service. Image reproduced with kind permission of Ordnance Survey and Multi Media Mapping.
The A34 connects Oxford and Kidlington to the south of Weston On The Green with Bicester to the North.